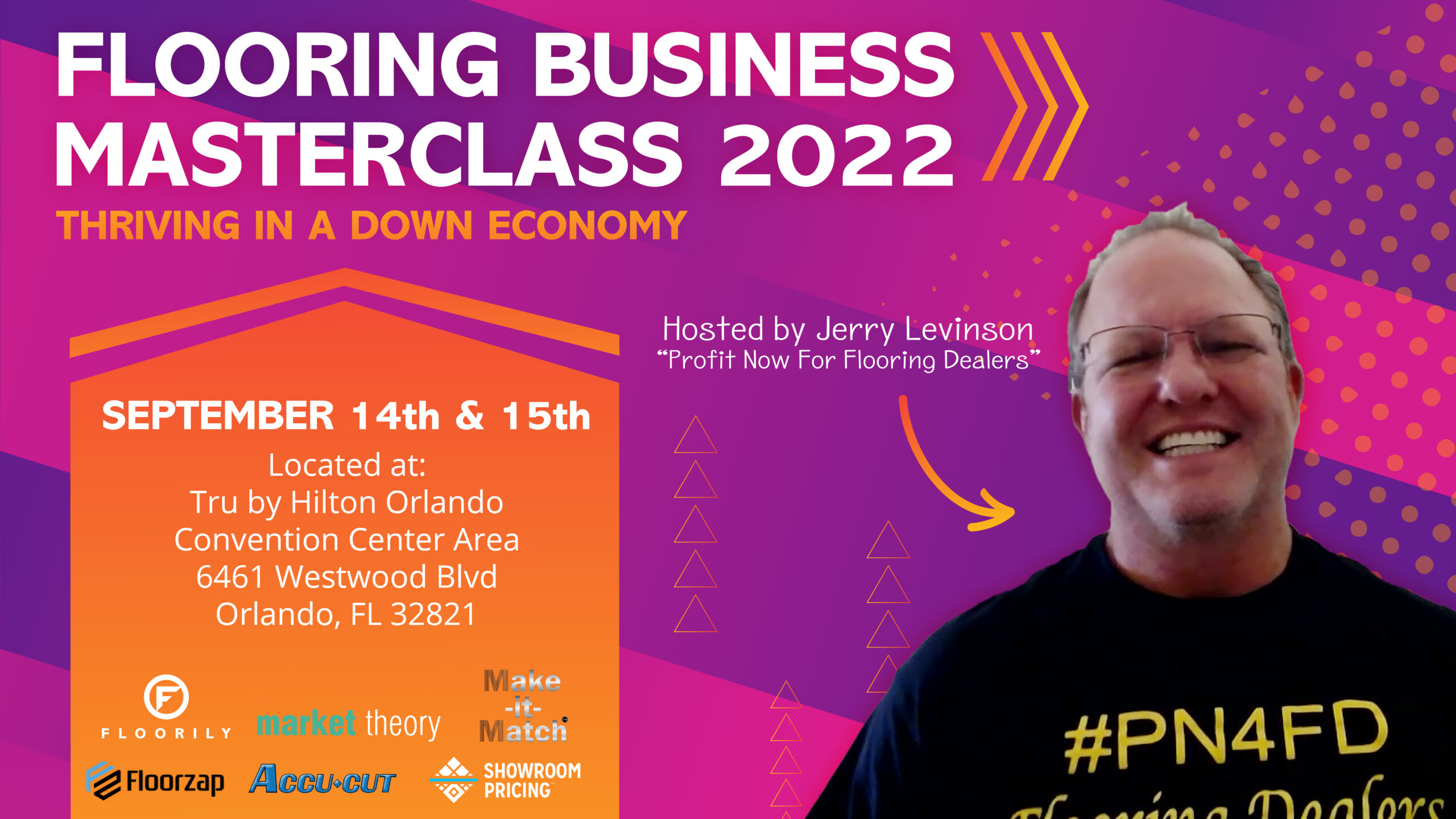 Profit Now with the Flooring Business Masterclass 2022, Sept 14-15
A two-day in-person or virtual event for flooring dealers looking to grow their business.
Are you a flooring dealer that wants to grow your business 30% or more? Are you struggling to hire salespeople, raise your prices, or get better margins? Are you having trouble finding and keeping good installers?
If so, we've got the event for you:
Flooring Business Masterclass 2022
For Flooring Professionals By Flooring Professionals  
Hosted by Jerry Levinson, creator of the
Profit Now For Flooring Dealers podcast
and author of
a
book
by the same name, this annual event is designed to equip flooring business owners with the tools and practices they need to succeed. In this
recent video interview
, Jerry speaks directly to the flooring dealers who stand to gain the most from attending: "If you're just starting out your business—you haven't reached a million yet—let's get you over that million-dollar hump. And if you're trying to go from 3 million to 5, or 5 to 10, this is the right class for you."
2022 Flooring Business Best Practices  
The Masterclass covers a multitude of topics, which you can find explained in detail in Jerry's mini-series featured on his
YouTube channel
. Jerry says: 
"So the broad topics are marketing, sales, hiring salespeople, leadership in management, building a good team, and having good culture in your business. We have everybody set their revenue goals, and what we do is we walk them through and show them the path to reach their goals through these principles. The marketing and sales is very specific to their business."
On the topic of sales, one of the most important questions that often comes up is about pricing. Jerry covers this query in-depth during the Masterclass. "One of the most important topics is raising your prices and showing you ways that you can ethically sell products for more money, or ethically show somebody a more expensive product that is better suited for them. We teach them the psychology behind pricing. If a customer comes in and they're looking for something cheap, why are they doing that and how do you get a customer away from that? Doing that is a more honest and ethical way to run your business," says Jerry.
Not only does raising your prices increase consumers' satisfaction with the quality of your products and services, it also benefits flooring dealers beyond direct revenue. Jerry goes on to say, "it's going to be just a better run business. You'll be happier with fewer complaints because, look, when you're selling better materials, the installers like installing better quality materials. They can do a better job and they can install faster. They're happier installing more expensive products. We'll teach concepts that help get you away from running things in a very old-school fashion that the industry's been doing for years and hasn't really changed."
In addition to transitioning to more modern and effective business practices, the Masterclass covers how to make your flooring dealership more competitive in the market. That involves learning how to market your company better and figuring out what really attracts customers. "You're going to learn a sales system that's going to lead customers to buy from you and make them afraid to
not
buy from you. And we do that without badmouthing the competition. We're teaching a really good system that's going to help you make your salespeople more successful, to sell at a higher rate with a higher closing rate and with higher prices as well."
Get Social
One of the guest speakers during the 2022 Masterclass is David Requa, CEO of
MarketTheory
and Co-CEO of
Floorily
. During the video interview, David talks about the importance of stepping up your social media game. "We've always thought about Facebook and Instagram in terms of the organic power and reach and so a lot of the flooring dealers that I talk to around the country have a plan in place to post information on their Facebook page," says David. "But what they don't realize now is that the algorithms for these platforms are such that when you put a post up, it really falls on deaf ears. It's not getting a whole lot of eyeballs to it because algorithms are formulated now to push sponsored content above organic content. And what that means is you really need to have a paid ad strategy behind your posting in order to achieve any sort of meaningful reach for the business." 
Flooring dealers have two options to develop and enact a successful marketing strategy on social media: they can use the knowledge, tools, and practical application guidance gained during the Masterclass to handle social media in-house, or they can hire an agency to do it for them. David's company MarketTheory is one such agency. "We have a Client Services division focused on Facebook and Instagram paid marketing, which is basically like posting, but supercharging your post with a paid strategy to provide really solid and consistent results," he explains. If you'd like to discuss your business marketing needs with MarketTheory,
fill out their form
and they'll get in touch with you.
Jerry goes on to introduce a David's other company, Floorily, which manufactures and distributes wholesale flooring to their dealer network. Beyond the flooring itself, Floorily also connects customers with dealers as part of their Market Leader program and their 30/90 Guarantee program. "The 30/90 program is guaranteeing you 30 in-home estimates in 90 days," explains Jerry. "There's no other marketing like this guaranteeing that you're going to get that kind of business and traction. In the flooring industry there's about a 50% closing rate, and the average ticket for these products is $7,500 for luxury vinyl or laminate flooring. So you should see revenue of about $35,000 to $40,000 a month with this program. And that's just the starter plan." If you're a flooring dealer unable to attend the Masterclass but are interested in these programs,
reach out to Floorily directly
. 
Other sponsorships of the Flooring Business Masterclass 2022 include
Floorzap
operational software,
Accu-Cut
cutting machines,
Make-it-Match
surface customization systems, and
Showroom Pricing
automated pricing systems. 
Flooring Business Masterclass 2022
Jerry wraps up the interview with an observation from past Masterclass events: "The comment I keep hearing from flooring dealers that have attended the Masterclass is,
'I've really only used about 5% of what I learned, and it made a big difference.'
And people are telling me that they got a ton of notes that they haven't even gotten to yet and things that they haven't implemented!"
David chimes in here to elaborate, saying, "I sat there as a speaker, you know—and of course, I'm going to listen while I'm sitting there—and I learned stuff, Jerry. I was already out of the flooring dealer business, but I learned other business lessons that I came home and applied to one of my other companies and saw immediate results from it. Like you said, some of the people say they only used 5% of what they learned so far. I mean, imagine what happens when they start being able to trickle in another 5% and another 5% and another 5% after that. So with the basics and fundamentals of running a company, I thought it was hugely valuable to me and I think it's hugely valuable to other flooring dealers." 
In a final statement, Jerry emphasizes that his goal is for flooring dealers to be able to take action and profit immediately after attending the Masterclass. "This isn't just coaching. This isn't theory. This is what we're doing." 
The Flooring Business Masterclass 2022 takes place September 14
th
-15
th
in Orlando, Florida, though you can also register for the virtual session. The cost is $397 and includes virtual materials to reference after the class. Check out the
Facebook event
for more details, or fill out
this contact form
to sign up directly.